About
ODS in Palestine (England) Ltd is a Company Limited by Guarantee registered at Companies House for England and Wales since 18 July 2013, Company Number # 08615817.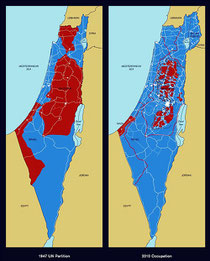 Since 2007 conferences on a one-democratic-state solution in Palestine/Israel have been held in Madrid/London 2007, Southampton 2008, Haifa 2008, Boston 2009, Haifa again 2010, Dallas 2010, Stuttgart 2010, Harvard 2012, Munich 2012, Stuttgart again 2013, Ramallah 2013 and Zürich 2014. The first formal ODS group was founded in Dallas, Texas, in 2010. In 2013/2014 ODS NGOs have been founded in the West Bank, with some members in Yafa and Haifa, and (ours) in England. The West Bank group, called the Popular Movement for One Democratic State on the Land of Historic Palestine, in 2015 gained more members in Hebron and in Gaza. 
In the early noughties Ghada Karmi, the late Edward Said and Tony Judt saw two things:
- the non-viability of the proposed Palestine
- that Israel/Palestine could become a normal country based on universal human rights; the ending of Zionism would render the Jewish state superfluous.
Books appeared:
- Mazin Qumsiyeh (2004) Sharing the Land of Canaan (Pluto)

- Virginia Tilley (2005) The One-State Solution (Michigan)
- Ali Abunimah (2006) One Country (Metropolitan)
- Karl Sabbagh (2006) Palestine (Grove)
- Ghada Karmi (2007) Married to Another Man (Pluto)
- Antony Loewenstein & Ahmed Moor (2012) After Zionism (Saqi)
- Hani Faris (2013) The Failure of the Two-State Solution (I.B. Taurus)

In October 2011 Ghada Karmi spoke in Cambridge on ODS, as did Jacob Norris, Sir Terence English and Karl Sabbagh in December 2012. On December 2013 Ghada Karmi was joined by Dr Ilan Pappé in the first of a series of dual presentations to be held throughout England.
The Munich Conference in July 2012, which unanimously adopted the Munich Declaration, was attended by 35 mostly veteran ODS activists. This ODS vision is compatible with all previous conference declarations. The ODS community continues to discuss the mechanics of the Right of Return, the ins and outs of the academic and cultural boycotts of Israel, the place of Arab-Palestinian self-determination, ways to modify the dominant Zionist and two-state discourses, and other sometimes controversial issues.
The following sites are maintained by other ODS groups or individuals:

[You are now at England: www.odspal.jimdo.com ]
Texas:  http:/onedemocraticstate.com
West Bank/international:  http://www.ods-palestine.ps  (Popular Movement for ODS)

Yaffa:  http://yafaods.org  (site temporarily down)

Turkey:  http://www.ftddturkey.jimdo.com  (nascent group)
Bethlehem:  http://qumsiyeh.org/
Haifa:  https://freehaifa.wordpress.com/
London:  http://www.1not2.org/One_State_in_Palestine/Welcome.html
London:  http://onedemocracy.co.uk/
Holland/international: www.onestatefoundation.org
Israel/international: http://osds-movement.net/
Israel: https://www.facebook.com/odsc.org/posts/this-facebook-page-is-part/455962374837115/
Our NGO has two purposes:
-- to support Palestinians and Jewish Israelis who are working towards the goal of one democratic secular state in historic Palestine; and
-- to advocate for ODS in England and the rest of Europe.

We ask visitors to our pages to never forget this crucial fact:

The Palestinians had nothing whatsoever to do with the persecution of Jews in Europe. Whether such persecution implied the need for a separate Jewish state is a moot point, not least amongst Jews. The point is that even if it did, it was totally arbitrary and totally unfair to visit Zionism upon the Palestinians. The problems facing Jews in Europe simply had nothing to do with the Palestinians. This is the basic injustice that took place. This is why it is accurate to say that the Zionists threw the first stone, should take responsibility, apologise and in word and deed atone.